Estimated reading time: 3:35
What's on your homescreen?
I'm regularly thinking about optimising my workflows in the hope to increase my prodctivity. (Or at least to make procrastination more effective.) I don't want to spend a lot of time hunting for an App I regularly use. Some apps I want to have available immediately, even though I don't use them often.
This is what my homescreen looked back in spring of 2011 on my iPhone 4 running iOS 4.3.x.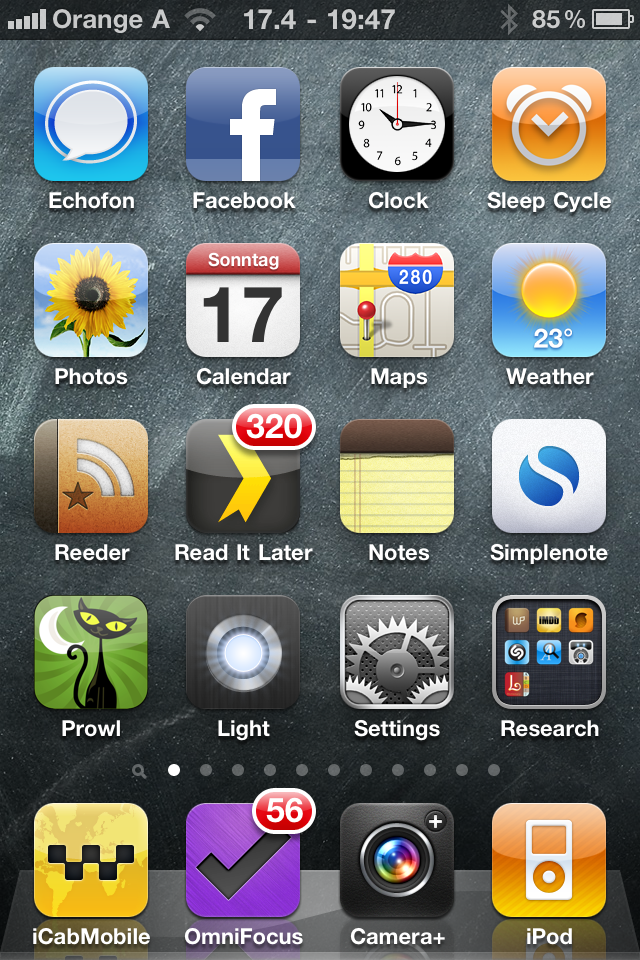 It was arranged to carry most of the apps I used regulary back then. I just empirically put there what I felt belonged there.
Fast forward to Spring 2013.
Quite a lot has changed since then. I've upgraded from an iPhone 4 to a 4S and iTunes tells me that there are 509 way too many Apps on my pocket computer. Of course iOS 6 happened and many of the apps have received substantial updates. The background, surprising to myself as well, is still the same. So this is what greets me at the moment.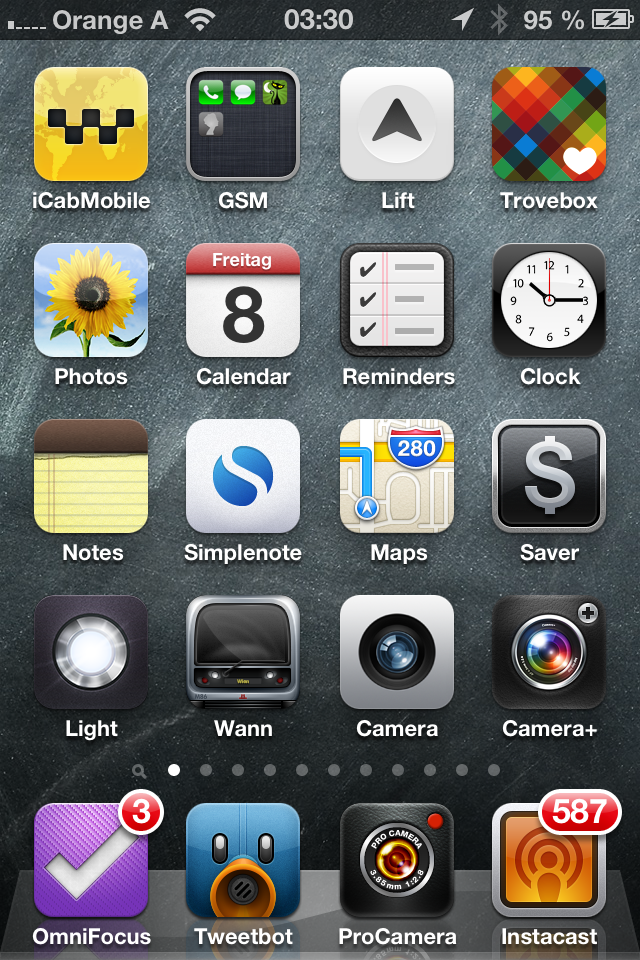 The present
So, what Apps do we see here, what do I use them for and why did I keep them in this precious space?
iCabMobile (Universal) In my opinion the best web browser available for iOS. (Includes an AdBlocker for example which you do not need here since I don't put any ads on my website. How nice.)
/GSM - See below
Lift An attempt at Quantified Self and to force myself to build a few new habits. You're welcome to cheer at my efforts to help my motivation. I'm MacLemon on Lift.
Trovebox A native client for the like named photo box platform. The source is available on Github and you can see a few of my photos and screenshots on my self-hosted instance. (Formerly named OpenPhoto)
Photos (Standard iOS App)
Calendar (Standard iOS App)
Reminders (Standard iOS App)
Clock (Standard iOS App)
Notes (Standard iOS App)
Simplenote All my note taking goes in here. I sync to my Mac with the simplenote.com Webservice. On the Mac this is complemented by the excellent nvALT.
Maps (Standard iOS App)
Saver Super simple capturing of my expenses and a little budget info. Helps me keep track of my spending.
Light The omnipresent flashlight app. As simple as it is, it comes in handy every now and then.
Wann Gives me the next public transport arrivals in my vicinity. This is actually a beta version by subzero for testing the data in Vienna/Austria. Sadly this cannot yet be released since the Wiener Linien do not release their schedule and realtime data as OpenData.
Camera (Standard iOS App)
Dock
/GSM
Not really a good name for that folder, I totally agree. Why are those Apps tucked away anyway? Because I really don't make that many calls. In fact I hate phonecalls more than email.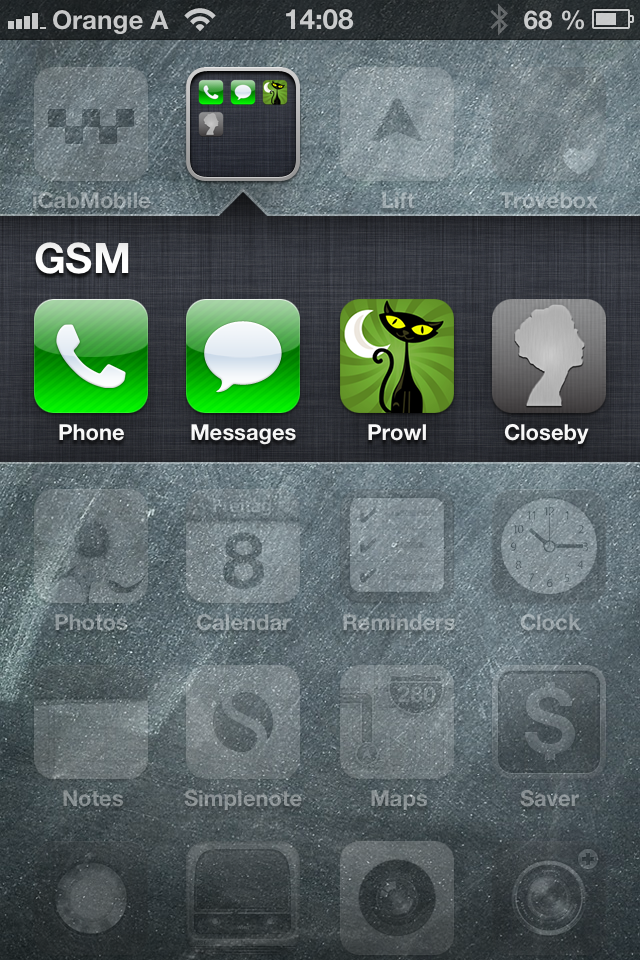 Phone (Standard iOS App)
Messages (Standard iOS App)
Prowl Mostly for push messages from a multitude of servers.
CloseBy Shows all my contacts on a map. Not sure if I'll keep that one since it's temporarily in here for testing.
The Future
I agree that many things are awry here and this is why I've decided to do something about it and analyze my actual app usage to get a better feeling for what should be on my 0th home screen.
Over the next few weeks I'll be collecting my daily app usage to determine which apps I use on a daily basis and which are less often in use. With that gained statistics I hope to gain enough insight to rearrange my homescreen in a more efficient way. Stay tuned!